This past Sunday, I hosted a journal making workshop. It was so fun and nerve wracking and inspiring to share my creative process with others. And to see how they interpreted it. This workshop did not include the journal binding, just the decorating. I brought all of the materials they would need, but I did suggest that if they had anything special they wanted to include, they should bring that along [a charm, a photo, a certain embellishment].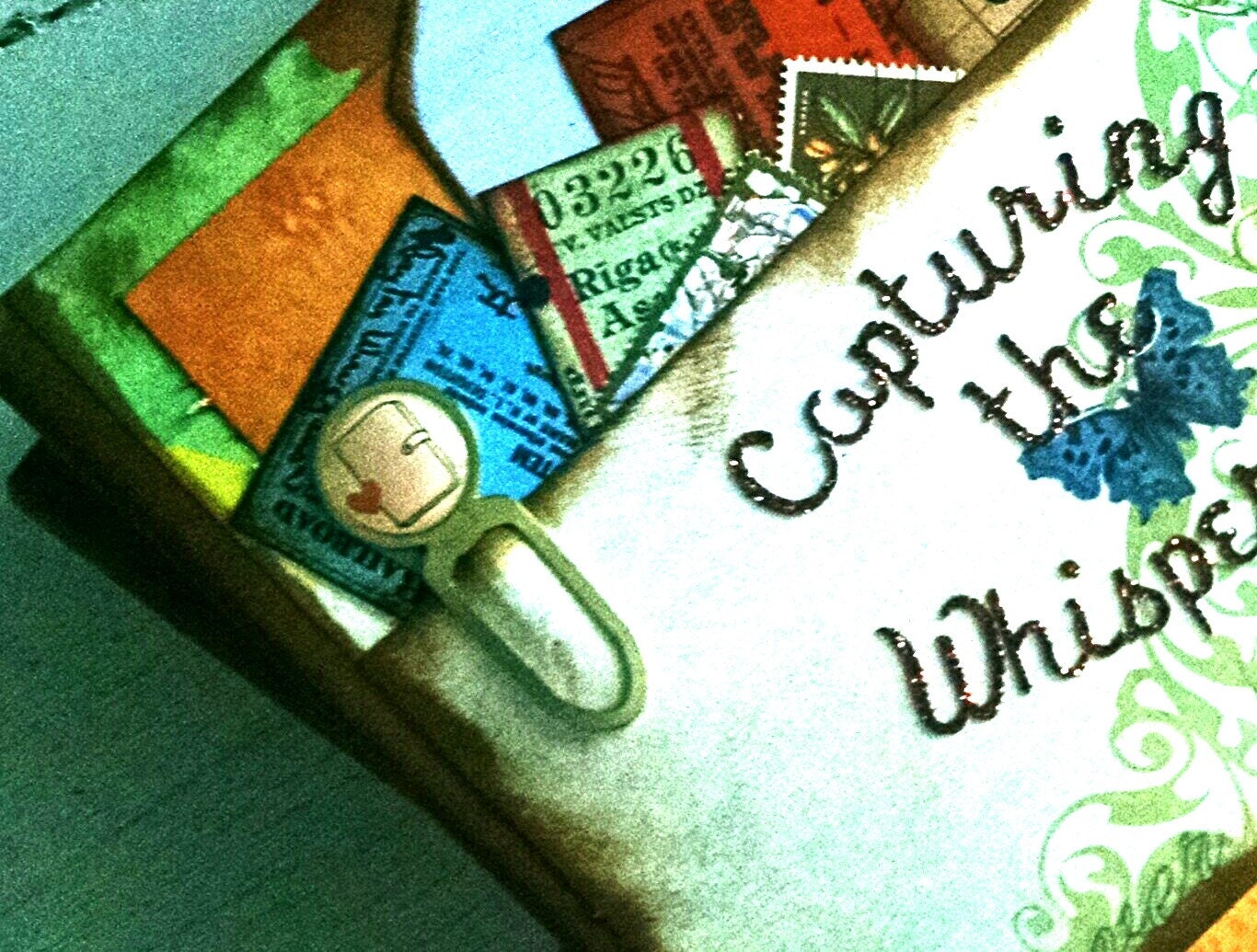 I knew I wanted to put this pink book clip somewhere, so I made sure to bring it to the workshop with me. It ended up on my journal cover.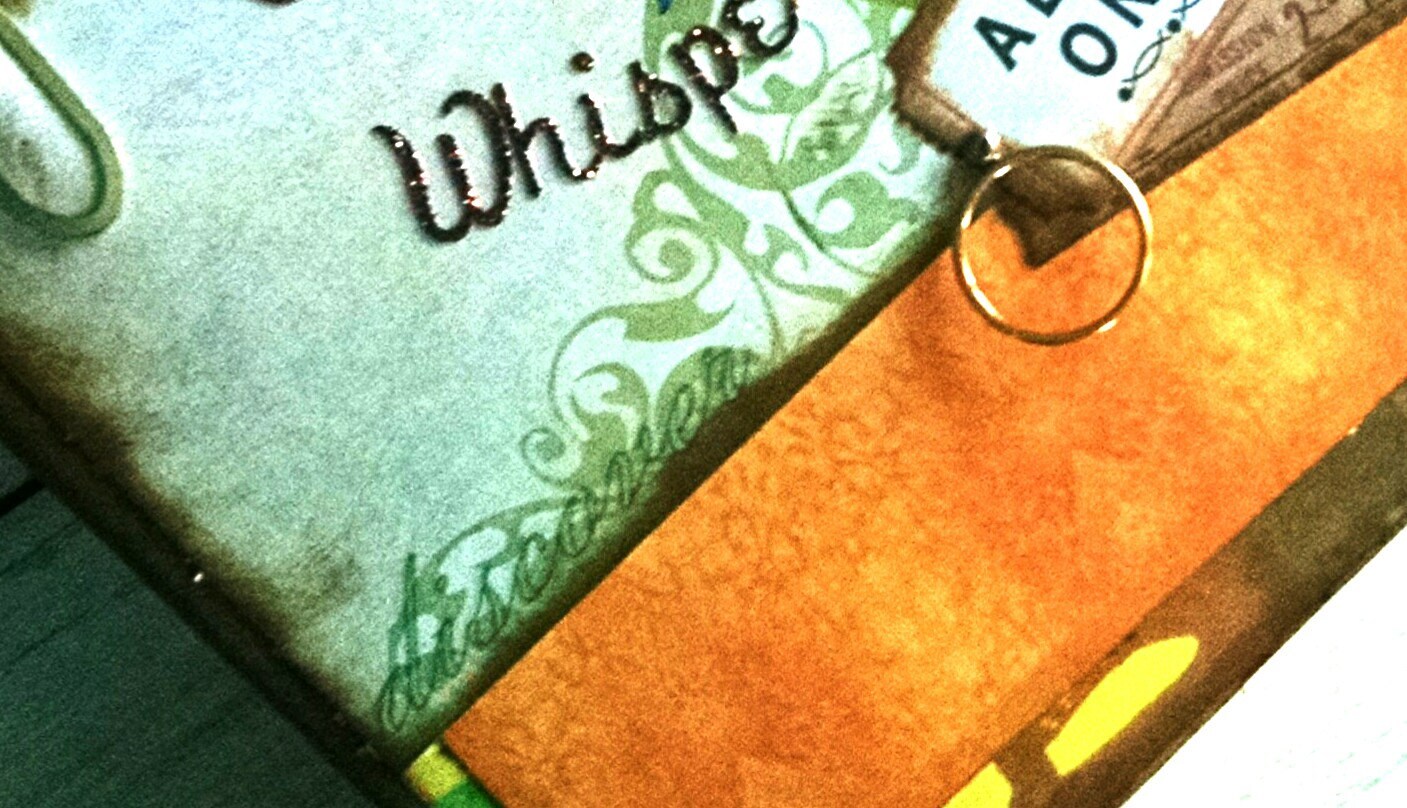 I also wanted to put this ring on the cover. This is the ring my little angel charm used to dangle from, but it got caught on everything - sweaters, towels, you name it - so I had someone put the angel charm on a bracelet for me, and I put the ring on my journal.
After all of the supplies were laid out, I started the workshop by demonstrating how I cover the bound journals with kraft paper. Sometimes it can be easier to envision the design you want when you know what the final canvas will look like.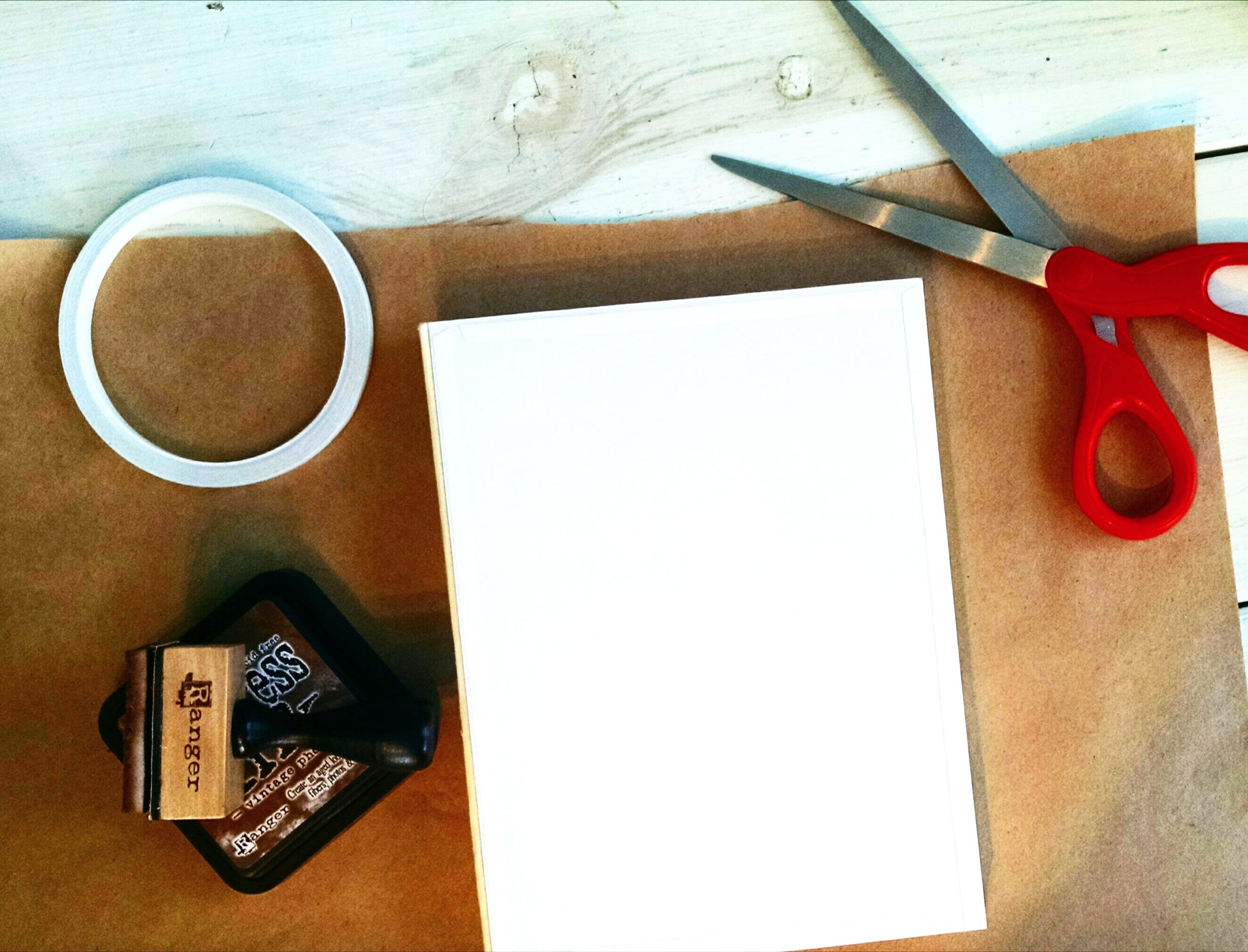 And then the fun began. There was a nice assortment of materials to choose from: decorative papers, inks, stamps, embellishments, clips, brads, letters.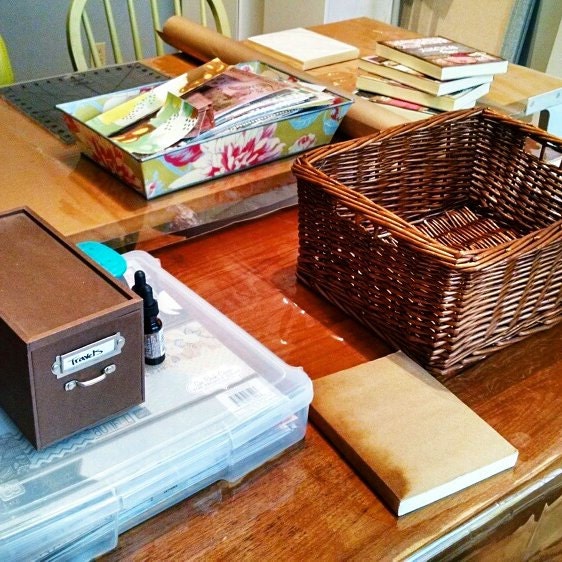 Everything was unloaded and spread out so everyone could see the choices.
I'm used to creating by myself, and I know the process I follow when I choose elements for my journals, but it was so intriguing to watch the participants choose their materials. Creating has always been such an introverted process for me that I felt like I was eavesdropping in a way. I wanted to ask why they chose certain elements over others, but I also didn't want to interrupt their creative flow or make them self-conscious about their choices. So I just sat back and observed while they chose, then changed their minds, then chose different elements, then finally made their decisions.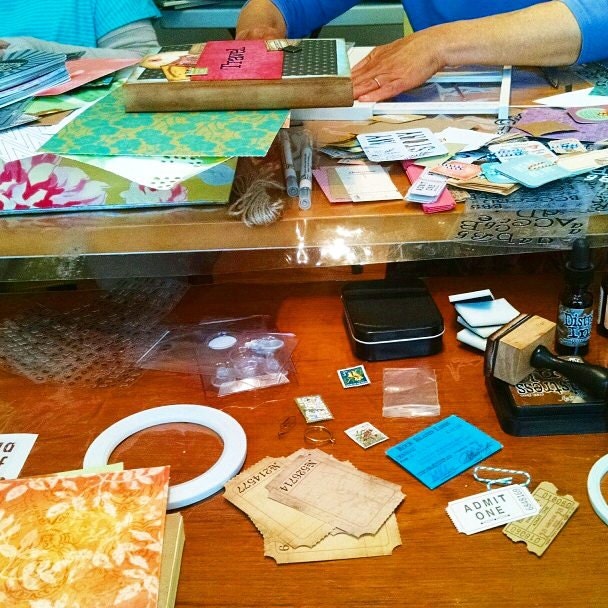 One of the participants asked me how I choose when there are so many options.   I told her that I start by deciding what the journal will be used for. If it's a travel journal for a specific destination, I'll choose colors that make me think of that place. If it's a daily journal, I tend to choose colors that make me think of the season I'm starting the journal in. For this journal, I'm starting in June, so I chose mainly yellows and oranges.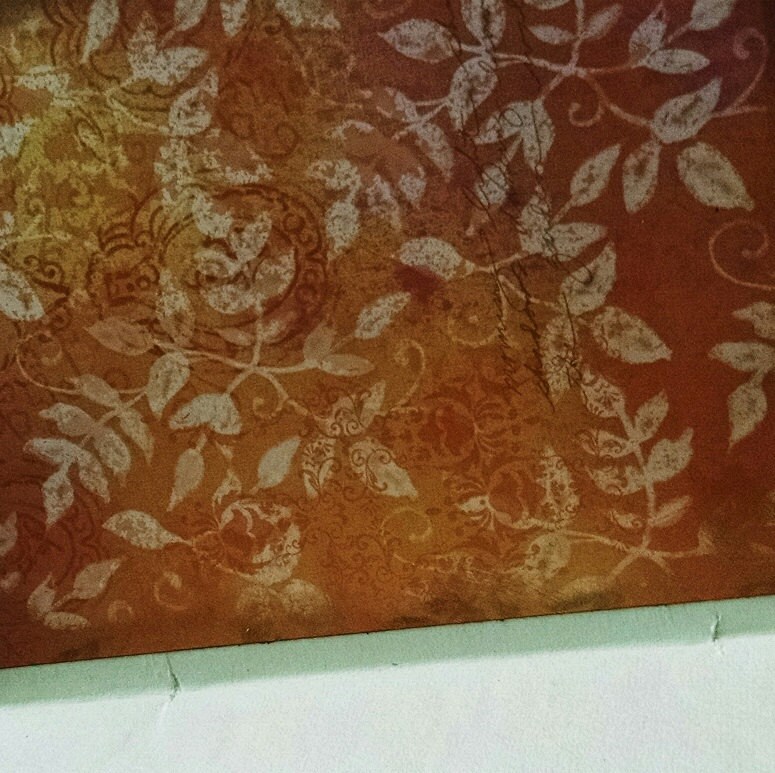 I always start by creating the cover design. That's the most important element for me, and the rest of the journal follows that design - color scheme, theme, etc. One woman wanted to create a journal for her trip to the Ukraine at the end of June. She also wanted a daily journal with a cover that said "Miracles" so she could write down all of the miracles she witnesses every day. Simply amazing.
Another woman created a daily journal with the word "Creativity" on the cover.
I chose Capturing the Whispers for my cover.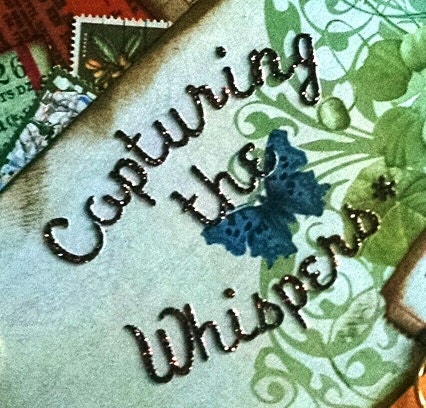 Capturing the Whispers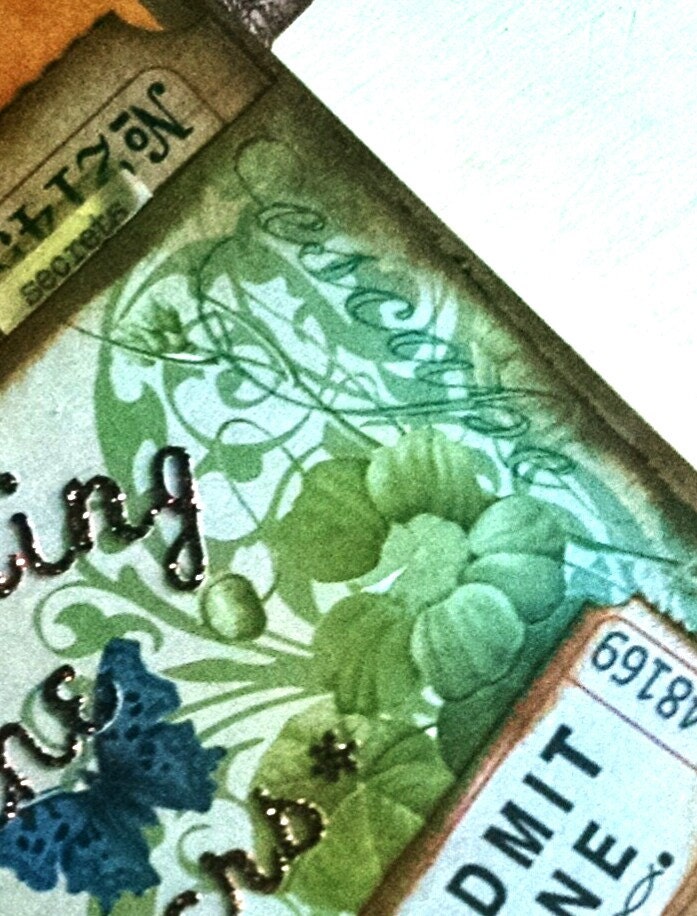 I put the word "secrets" on the right, and I added a rub-on that says "escape" to the title area. Can you see it over on the right?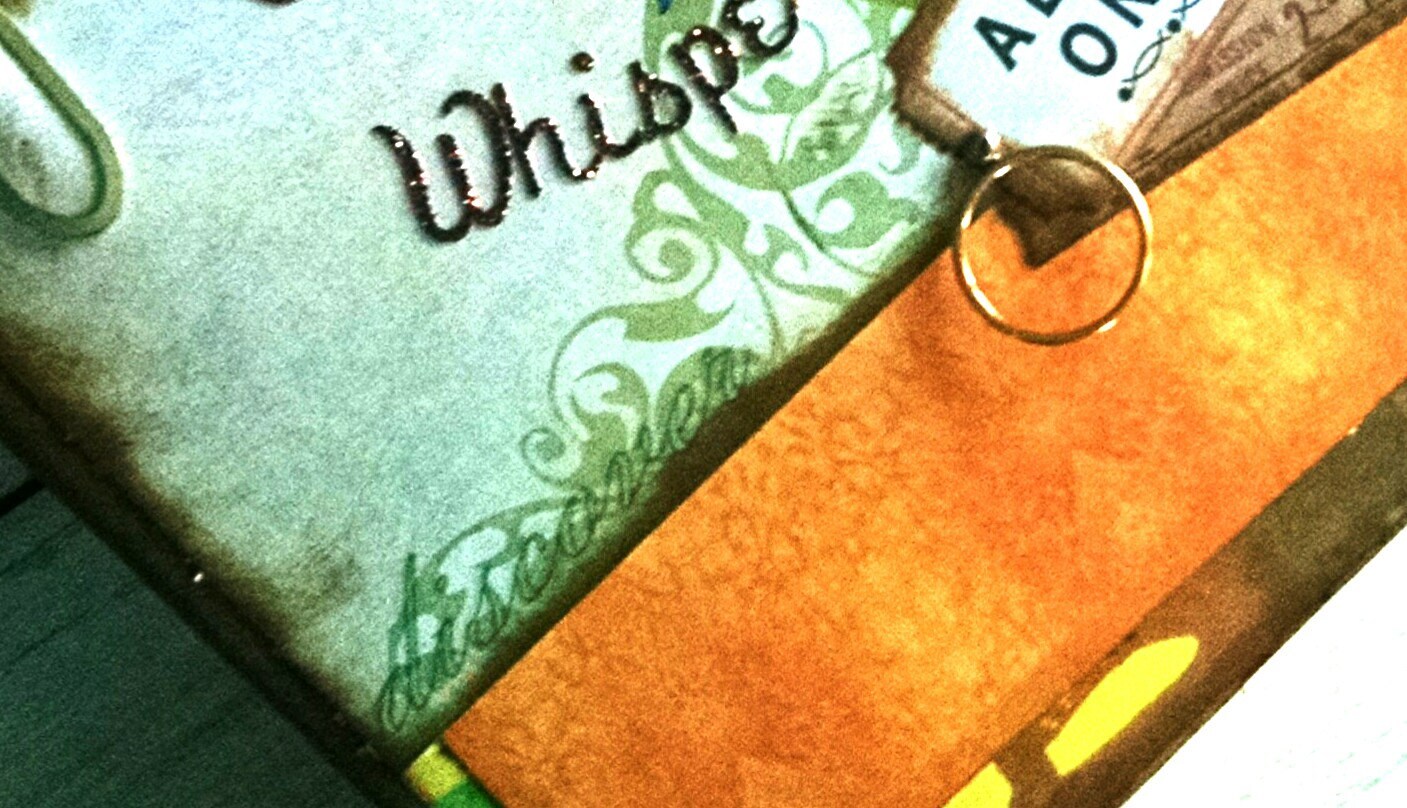 I also added another rub-on word that says "discover" in the lower left of the title area.
And I will say now that I got so caught up in helping the participants create and in creating my own journal that I completely forgot to take pictures! I took some of my completed journal after the fact, but total fail in the documenting life as it happens department. But hey, at least I was present in the moment, right?!
So, back to the workshop.
Once the front covers were finished, we moved on to the inside cover pages.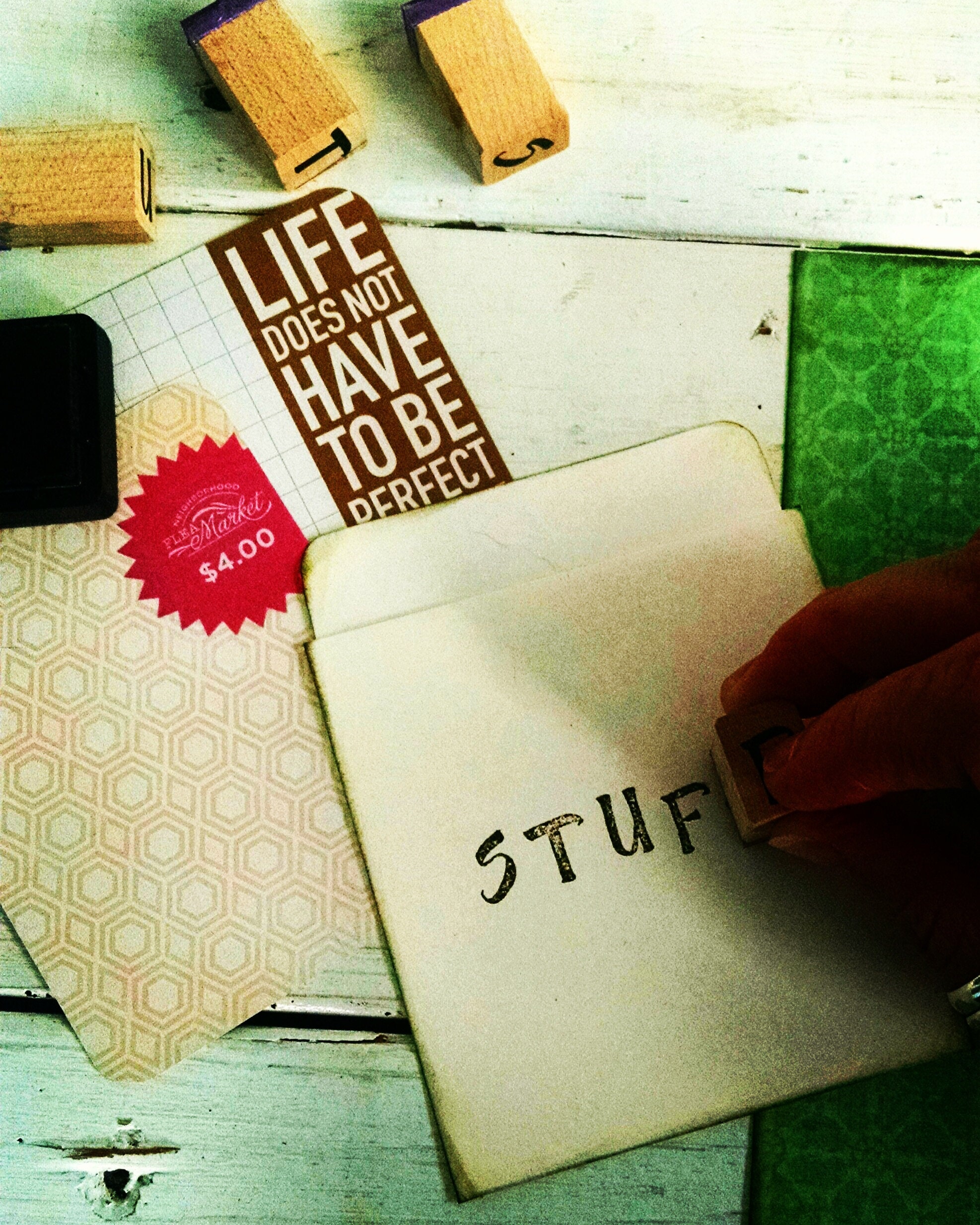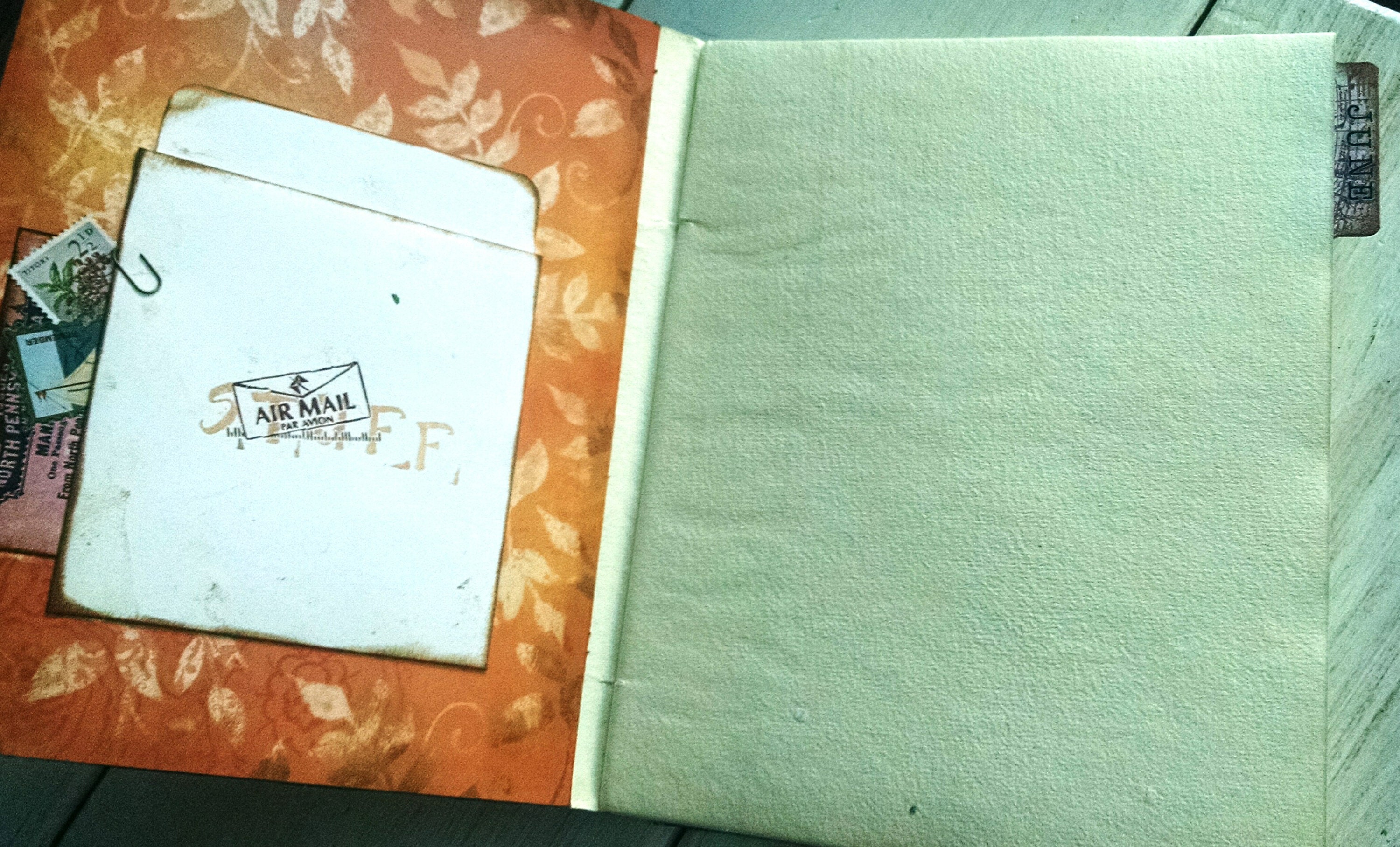 I added a pocket slip to mine and stamped the word "stuff" on it. I embellished with a few postage stamps and tickets and added an "air mail" rub-on. I'll use this pocket to store journaling cards, embellies I want to use throughout my journal, etc.
I also added a tab to the first writing page with the word "June" on it to mark the start of the month. I'll add tabs for each month as I get to them. My journals tend to last me for about three months. 
A few participants put envelopes on their inside covers, and some chose to decorate with papers and journaling cards.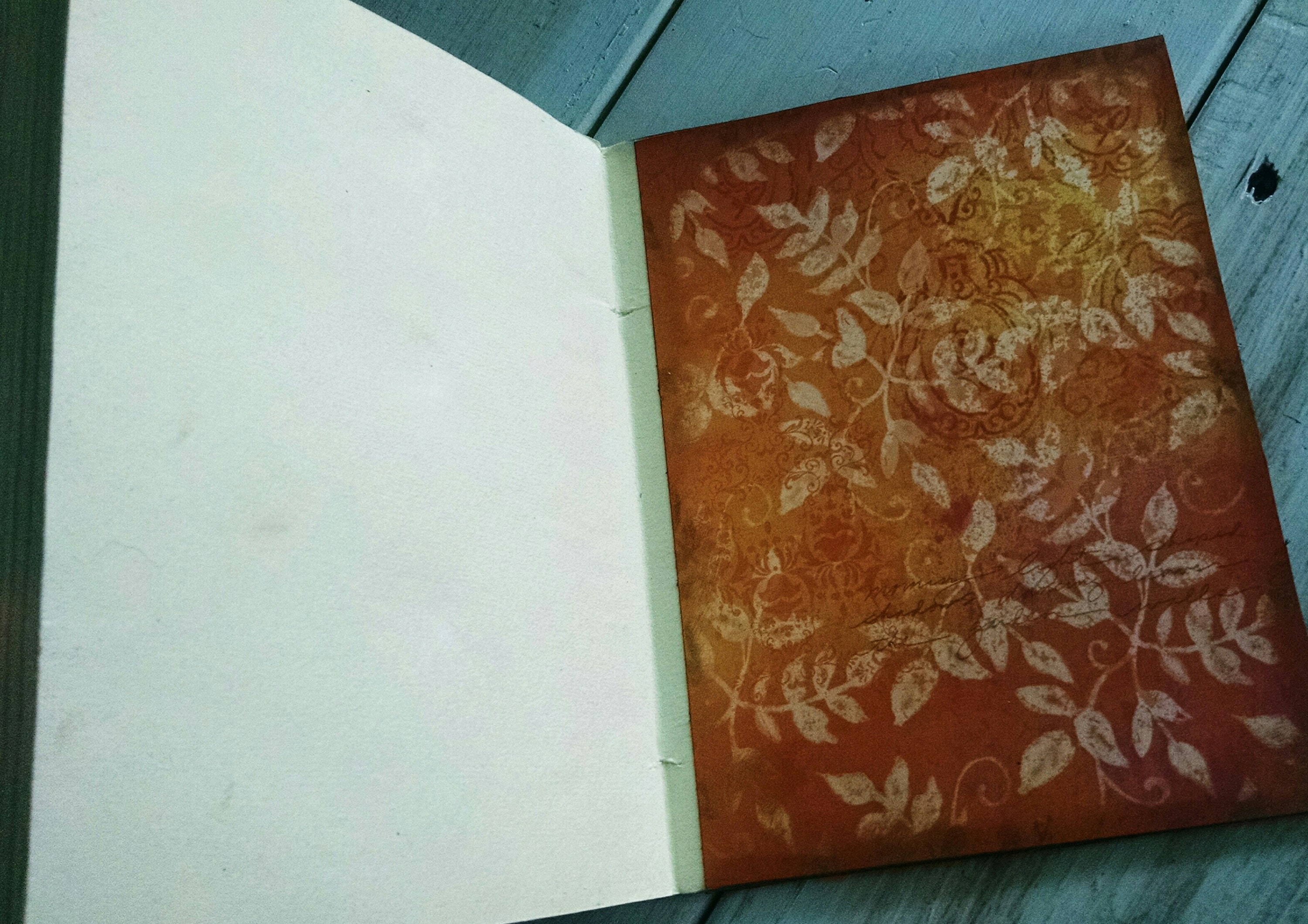 I left my back inside cover plain except for a decorative paper. I tend to write on the right side of my daily journal pages only, and I like to have a smooth surface to write on. For my travel journals, however, I'll add an envelope or pocket to the back inside cover as well.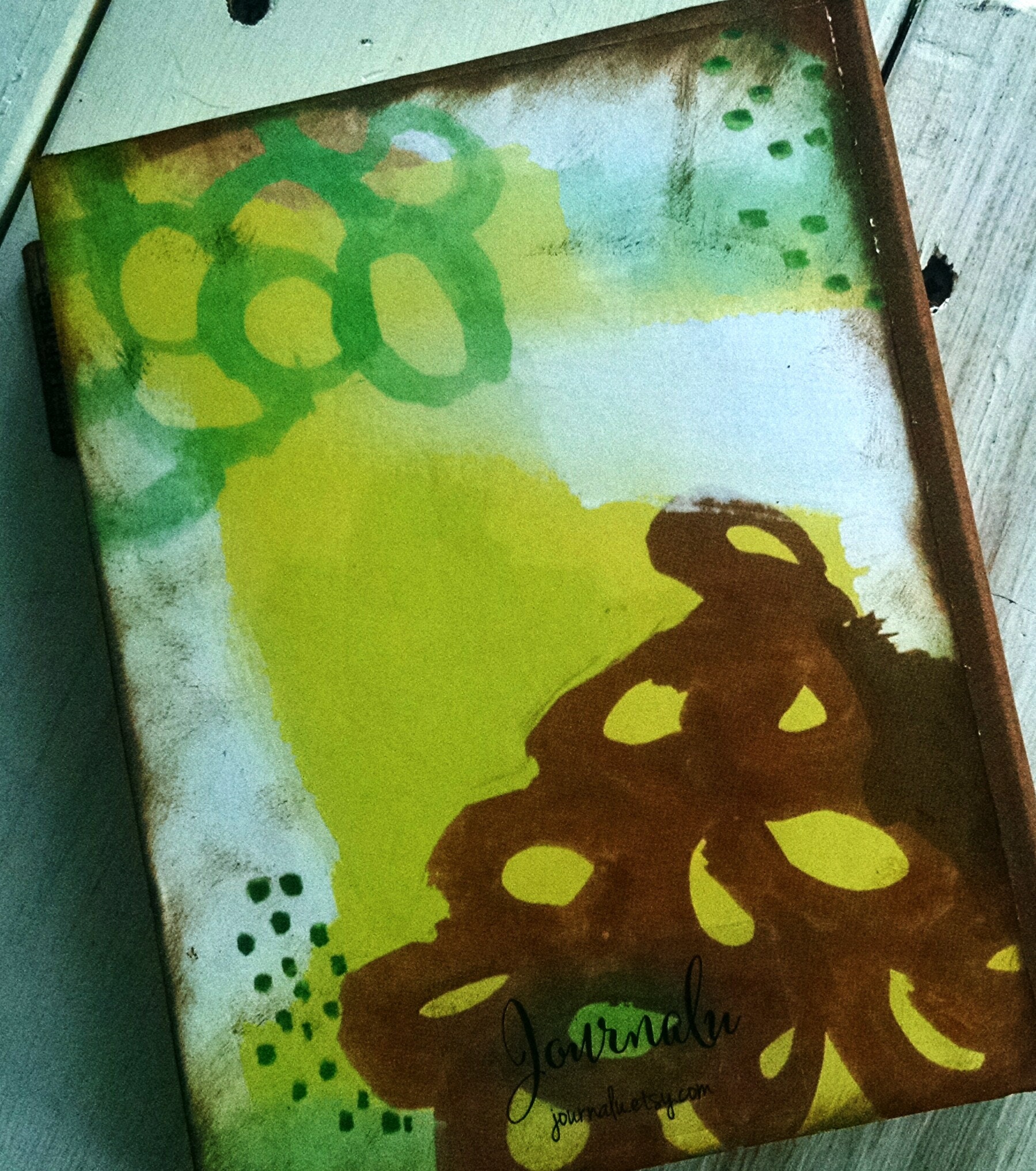 I keep the back cover of the journal plain except for decorative paper, and my brand label of course! Obviously, the participants did not put labels on their journals :) I like to use the same paper on the back cover as I used for the base of the front cover, but a few participants chose different papers. Some of them coordinated with their front covers, and others were completely different. There are no rules!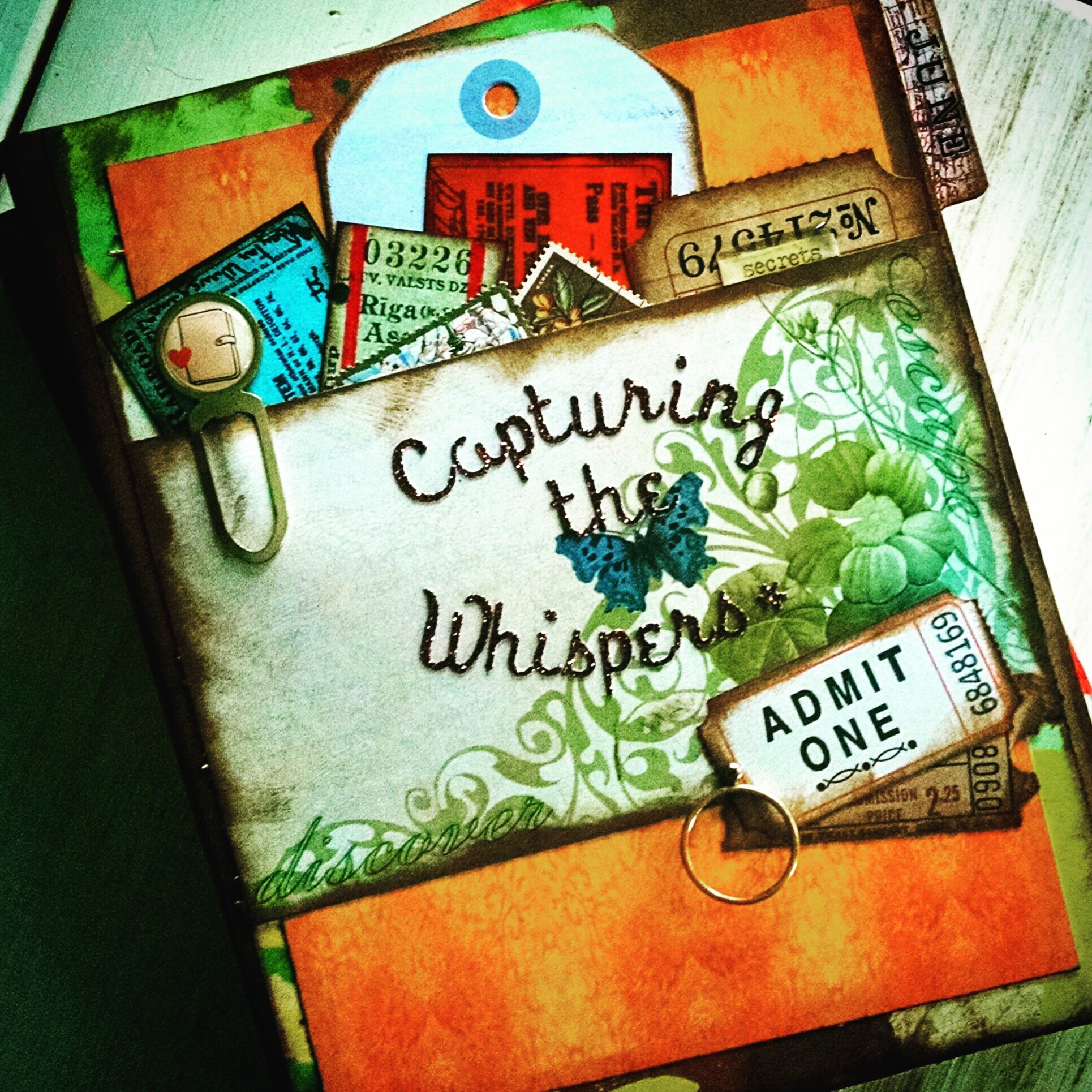 The final product - Capturing the Whispers journal 
What a successful workshop! This was my first one, and I was a bit nervous at the beginning. All of the self-doubt comes to the surface: will they think this is stupid; will they have fun; will I be able to explain myself so they understand the process; it's pretty much endless. But as soon as I got into it, I relaxed and just had fun. I stopped worrying about whether I was saying everything as I had "rehearsed it" and just started winging it. We laughed, we crafted, we explored new techniques. They learned every step of my process, and I in turn learned so much from them. Total win-win! I will definitely be having more of these.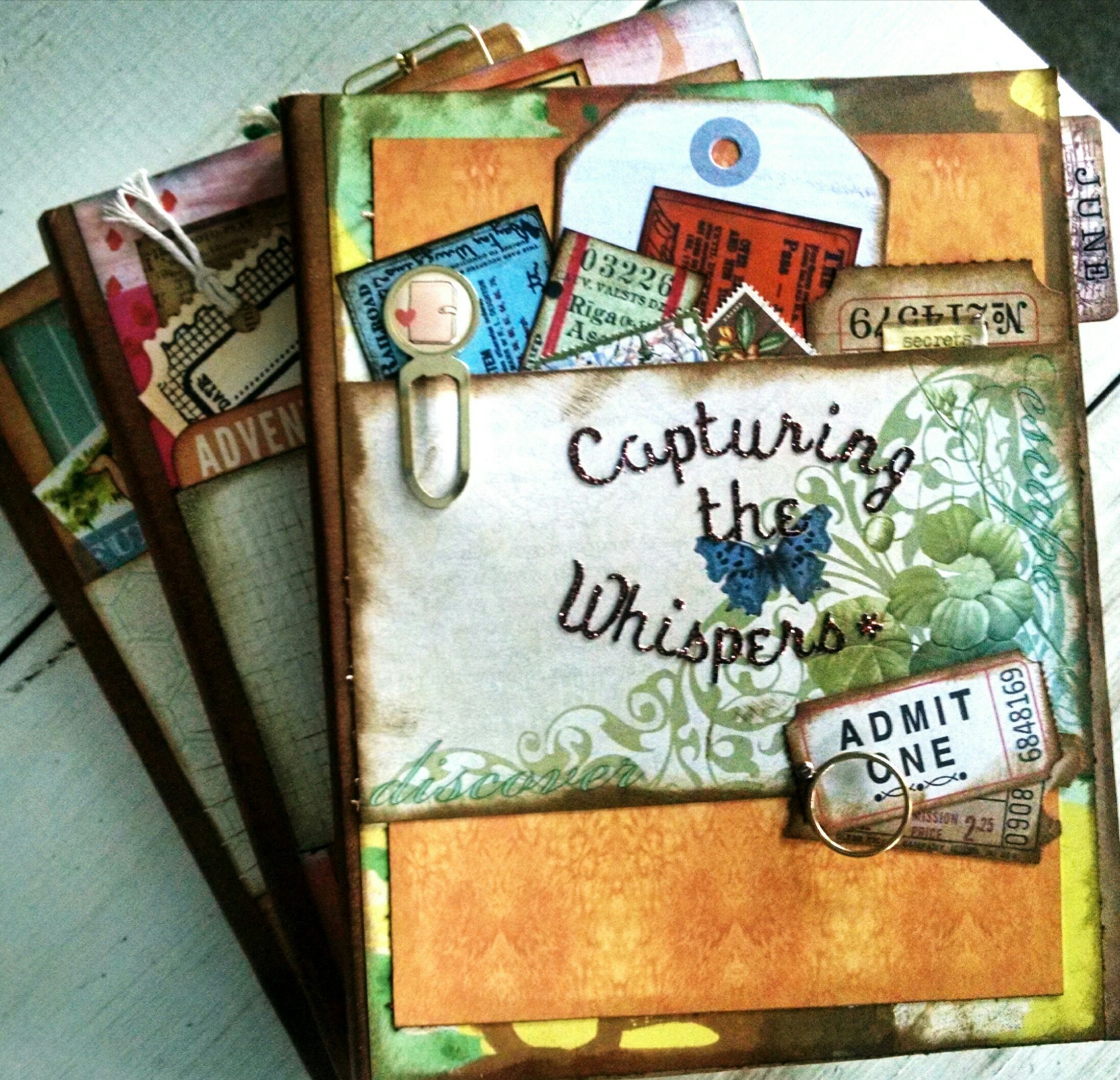 This is my story. Tell me yours.