A few months ago, my husband went to a work seminar in Jefferson City, MO, and came home talking about how beautiful the capitol building was. When I was in grade school, taking a field trip to see the state capital was a requirement. That was many, many, many years ago, and I haven't seen it since. Hubs didn't grow up in St. Louis, so that work trip was his first encounter with Jefferson City. When he suggested we take a day trip to Jeff City to explore a bit, I was all for it. 
Aside from wanting to tour the capitol building, we weren't quite sure what else there was to do there. A quick check online gave me some very good info, as well as weekend tour times, so we picked June 3rd as our getaway date and planned our trip. 
I had seen gorgeous photos of the Memorial Gardens online, so Hubs and I decided to pack a lunch and have a picnic in the gardens. Jeff City is a two hour drive from St. Louis. The first weekend tour of the capitol building is at 11am, so we wanted to get on the road by 8am to make sure we got there in time. We left at 8:37 - close enough, no stress in daytrippin'!
Our drive was pretty uneventful, and we arrived in Jeff City at 10:50am, plenty of time to catch the first tour. Little did we know there was an outdoor festival going on, so parking was a bit tricky, but we lucked out and found a spot on Jefferson. 
I gotta say, our state capital is pretty nice. The grounds are lush and well maintained; there are plenty of things to look at and explore; and all the workers we encountered were exceptionally polite and helpful.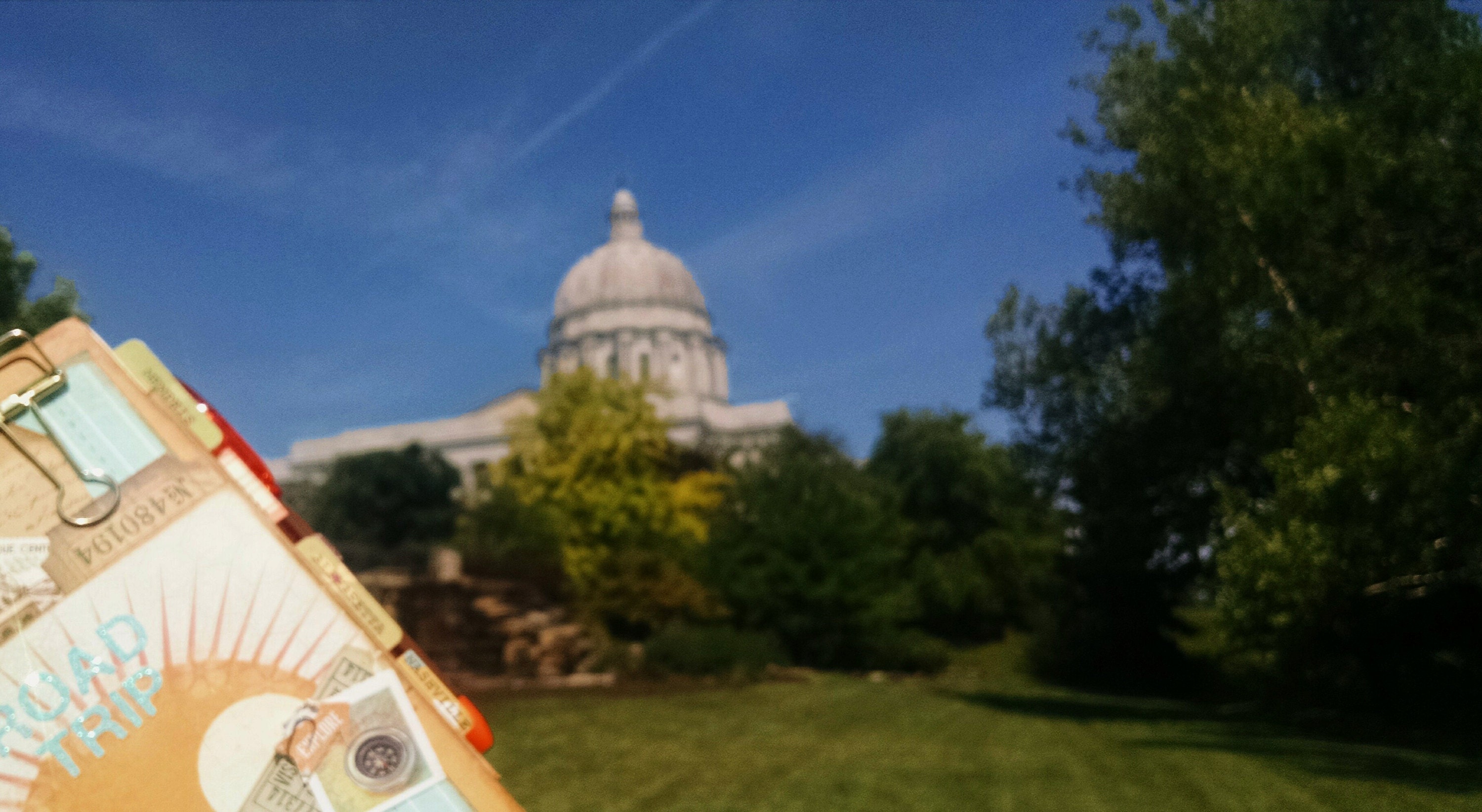 We found our way up the steps and to the visitors' entrance of the capitol building, through security and to the tour desk with plenty of time to spare. The tour was so informative, and the building itself is just gorgeous. After the tour, they let you roam around the building and check out anything you may have missed or wasn't included.  I highly recommend checking it out.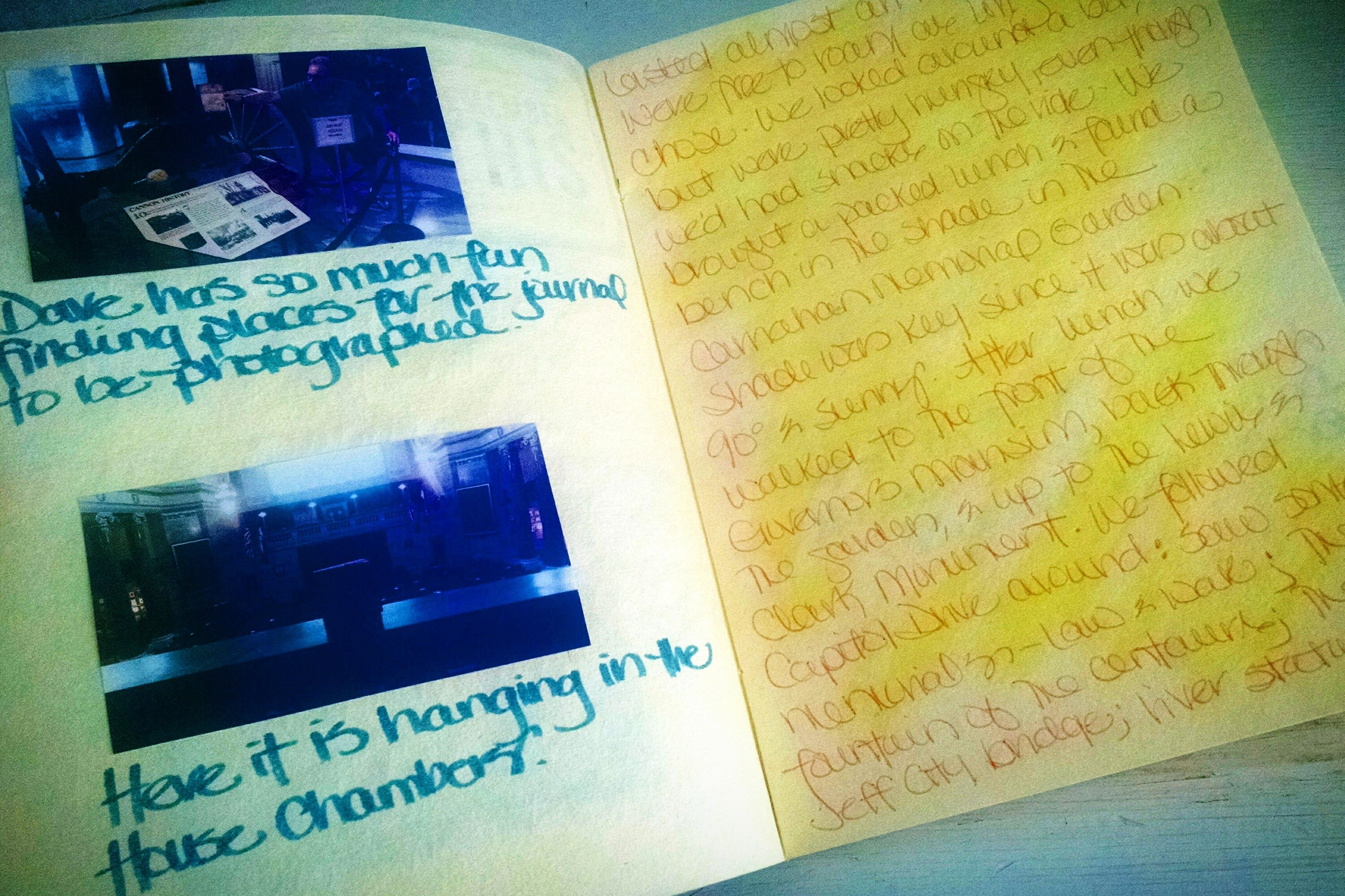 Hubs gets a kick out of placing the journal for photo ops. His favorite part of the tour was the House Chambers. Mine were all of the lunettes throughout the building.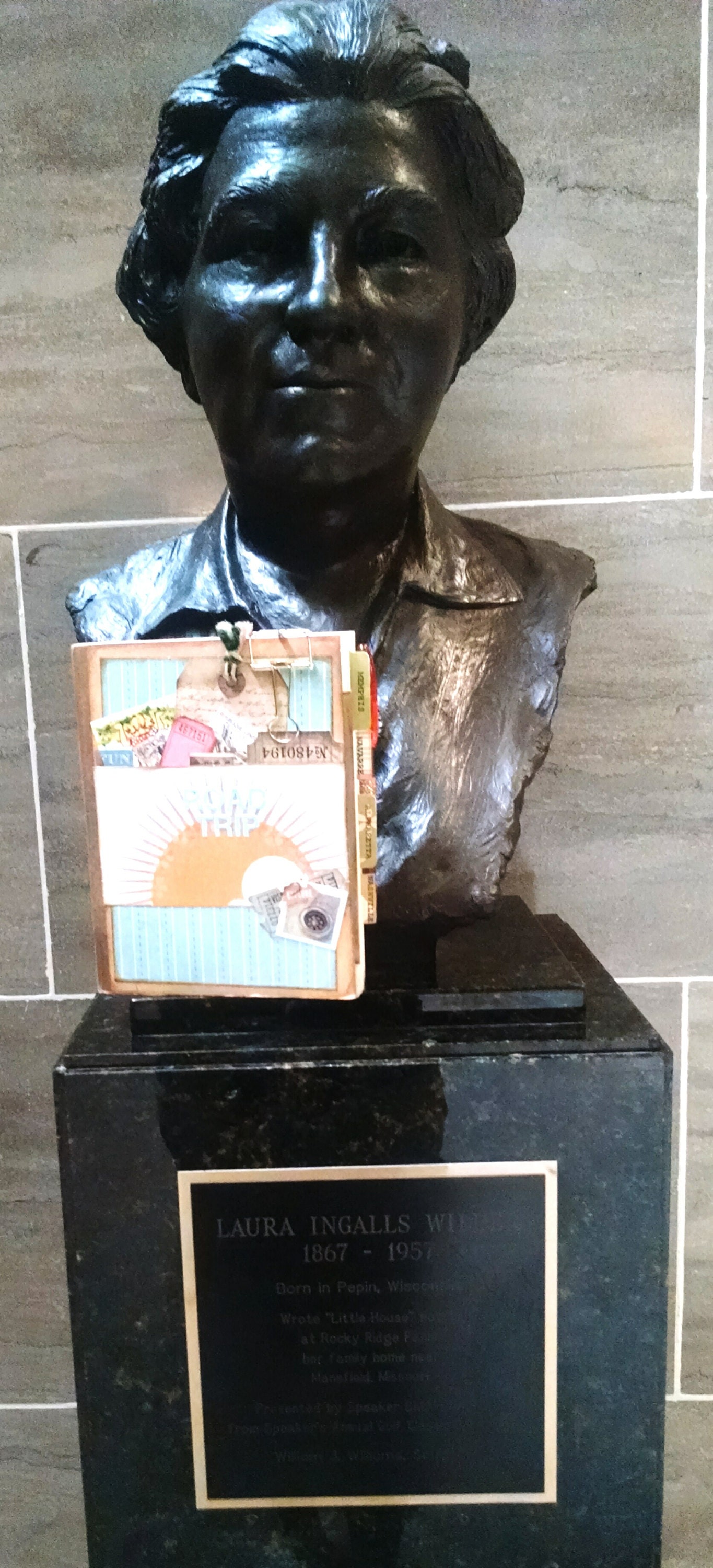 And apparently, I like to have a  bit of fun with journal photo ops as well. Why yes, Laura Ingalls Wilder, you may hold my journal. 
By the time the tour and our free range roaming ended, we were pretty hangry. So we made our way back to the car, grabbed our blanket and lunch, and found a beautiful spot on the Memorial Gardens grounds to have a nice quiet lunch. Shady because it was about 90 degrees and sunny with that Missouri humidity lurking in the air. I pulled out our Road Trip Journal while we ate so we could write about what we learned at the capitol before we forgot everything.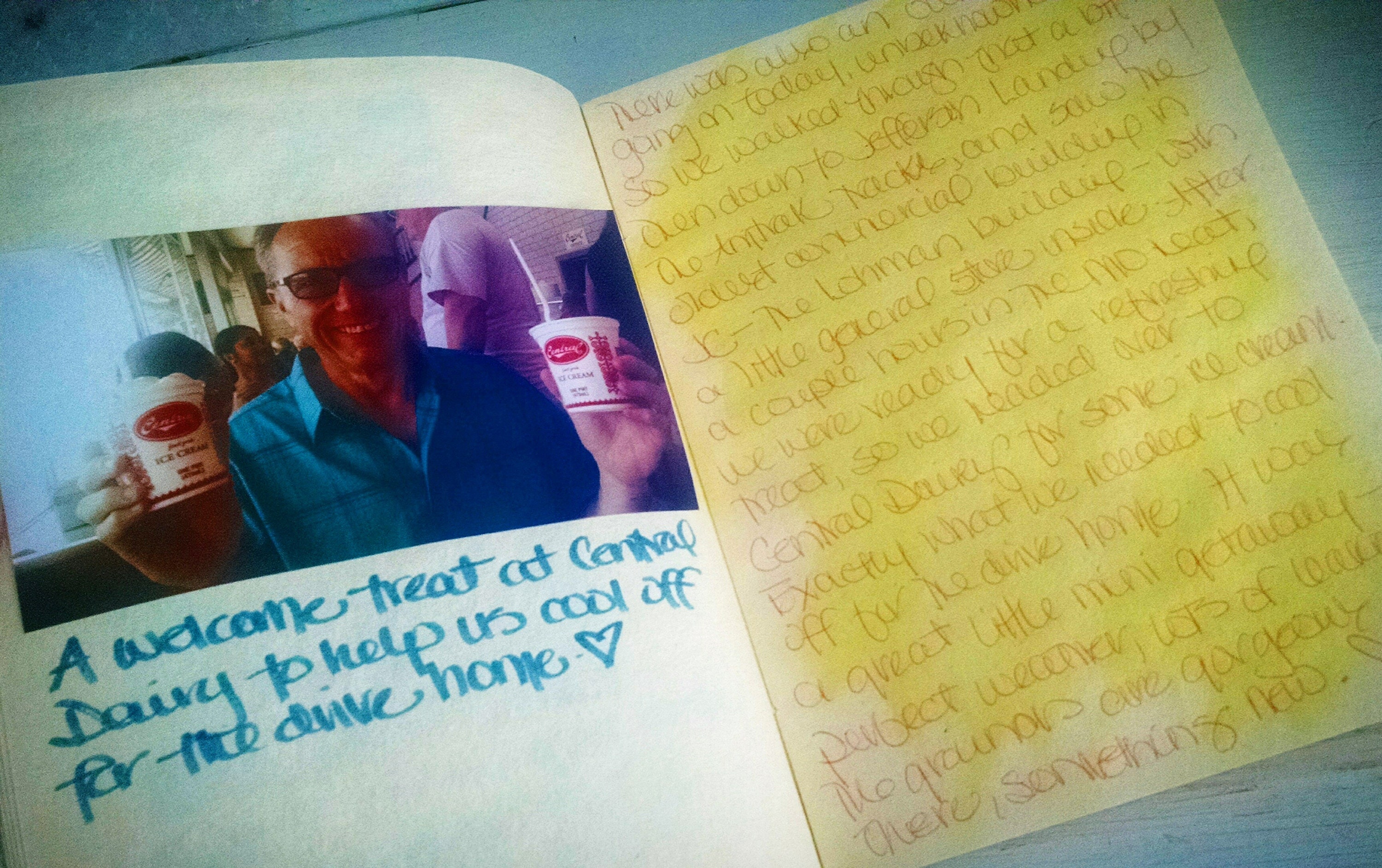 A large bridal party was having photos taken in the gardens, apprarently a very common occurence, and when the photographer decided that our shady lunch spot was the perfect spot for the groomsmen group photo, we packed it up and got out of their way. Who are we to stand in the way of true love?!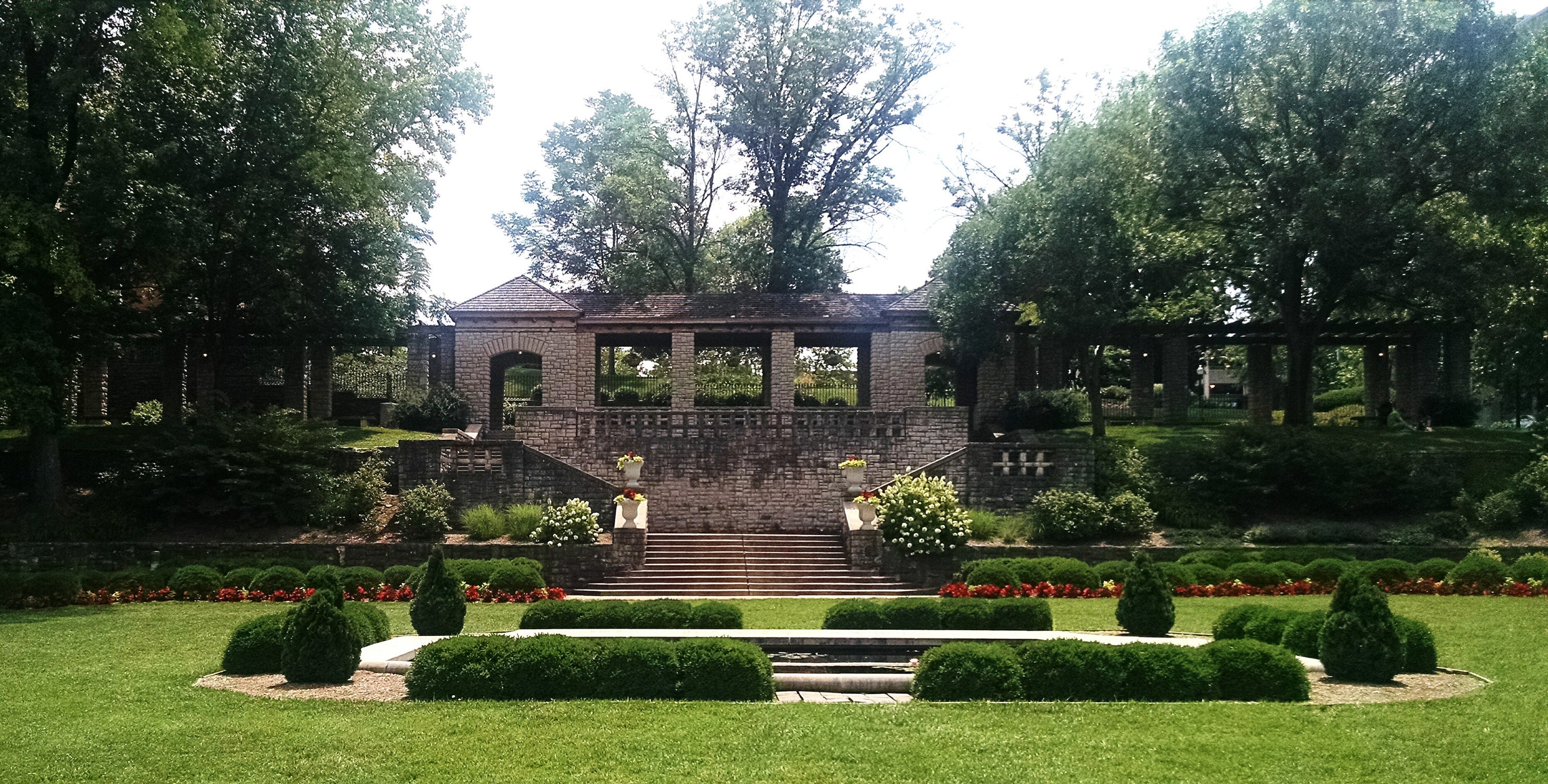 So we strolled past the governor's mansion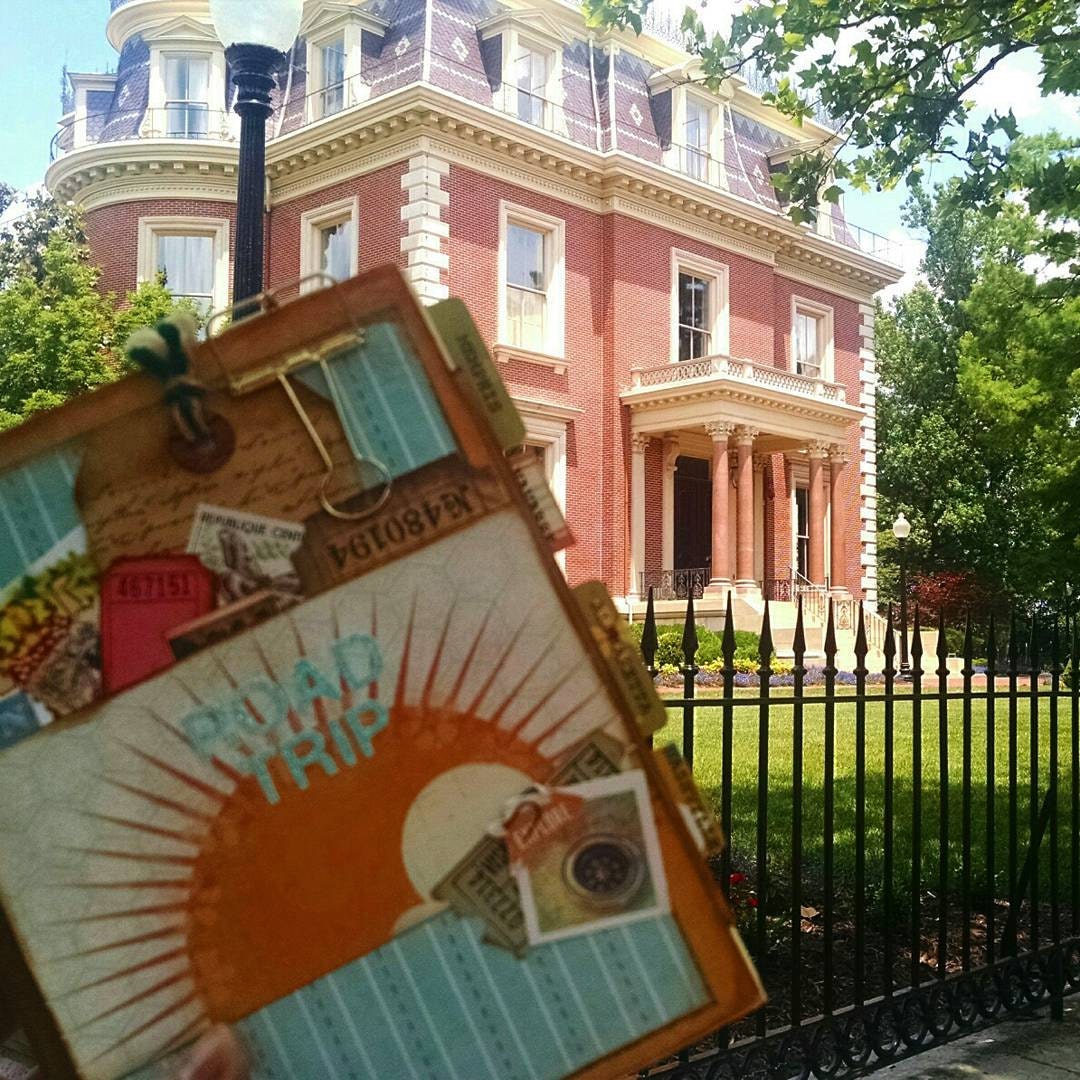 then ambled over to the Lewis and Clark Monument.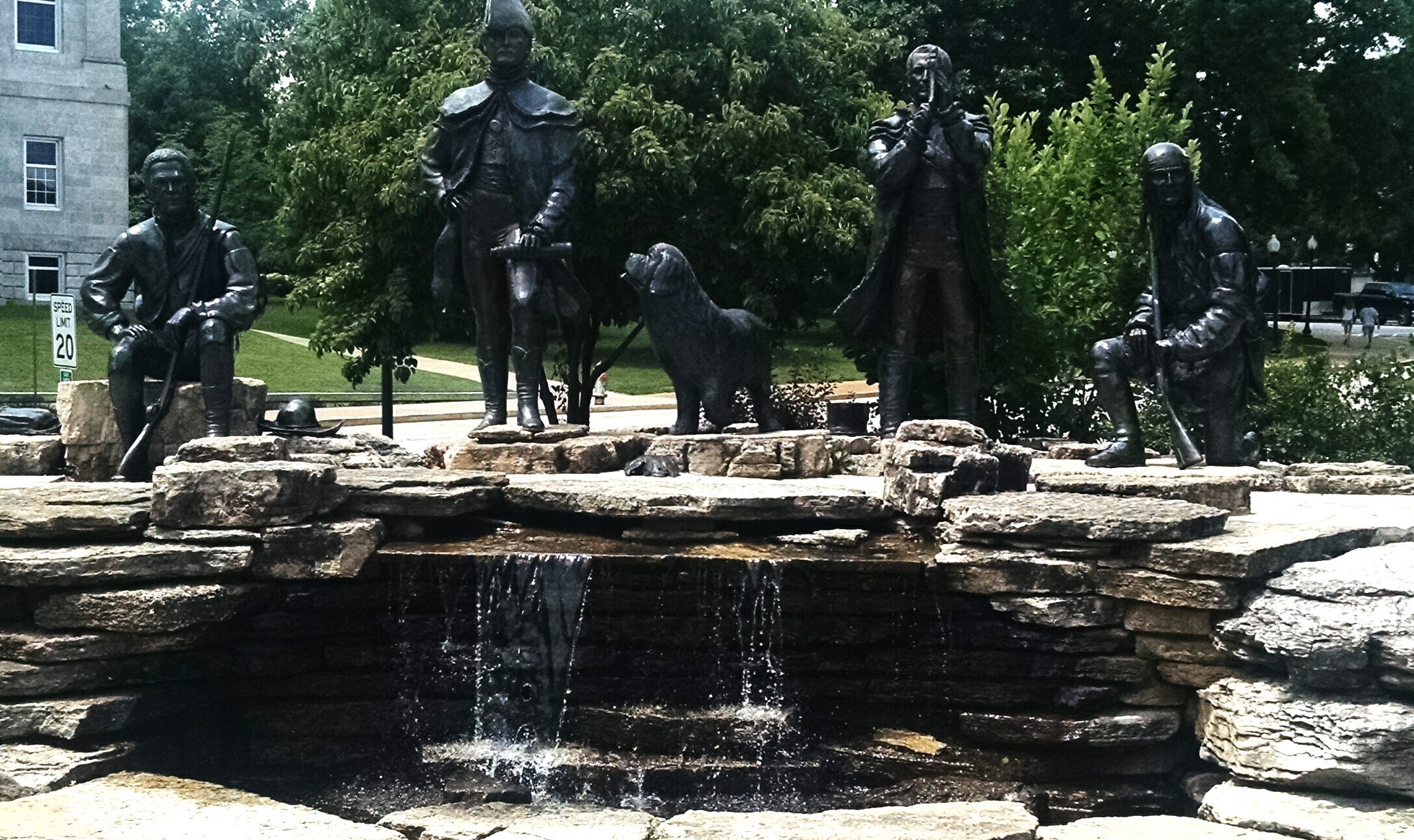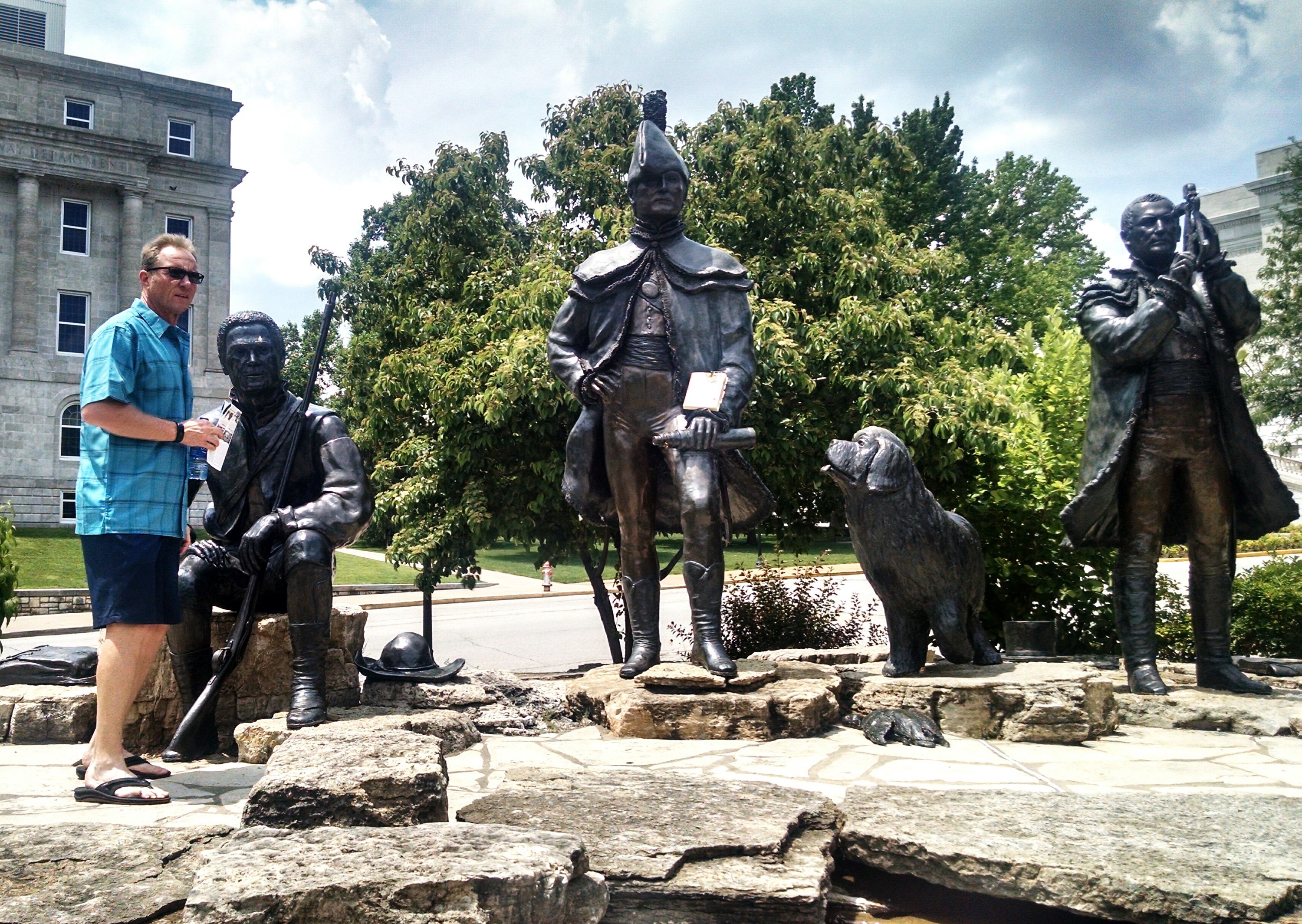 Hubs got busted placing the journal on the monument, but the docent on duty just laughed. He said he'd seen people placing rocks up there but never a journal. First time for everything! He gave us some great information and suggestions of other things to see. So we followed Capitol Drive to the Veterans Memorial, the Law Enforcement Officers Memorial, the Fountain of Cerce.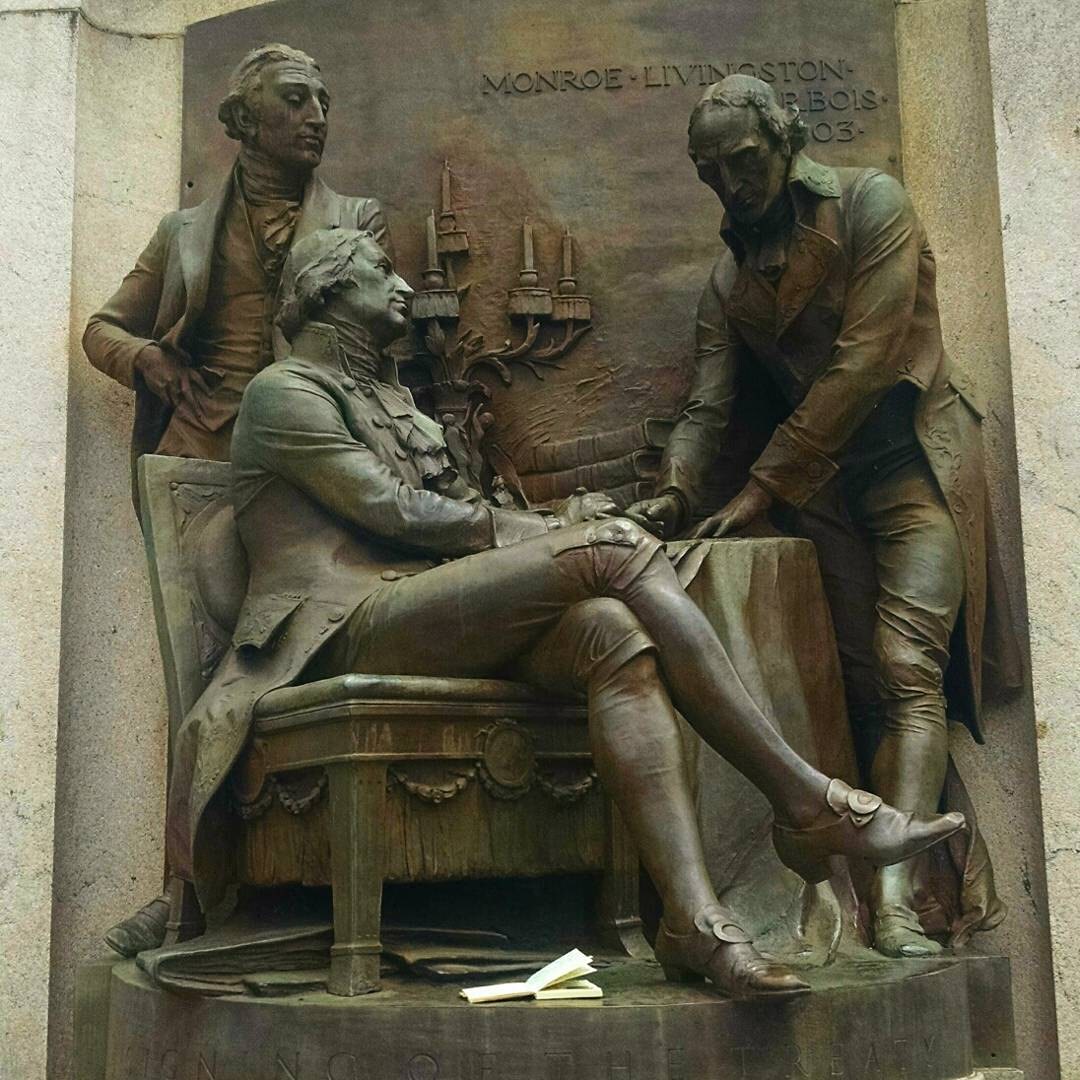 As soon as these guys are finished signing the Louisiana Purchase, they're going to sign my journal.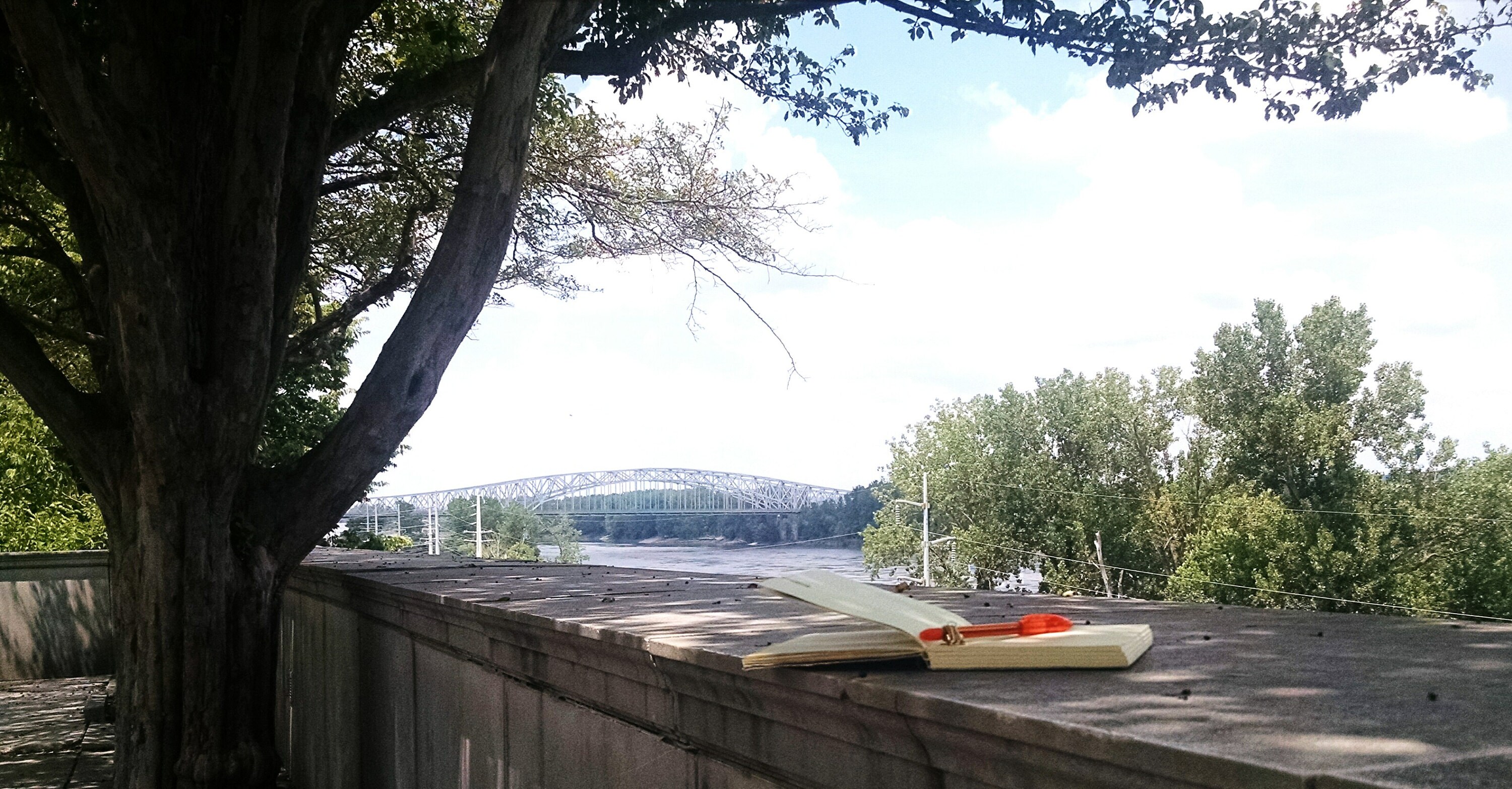 We stopped to check out a nice view of the Jefferson Bridge before strolling past the rest of the monuments and fountains along the drive. We even ambled through the outdoor festival for a bit, and then wound our way back to the start of Capitol Drive. 
A short walk down Jefferson led us to Jefferson Landing and the Lohman Building and Union Hotel. We stopped in the general store - the cool air felt so nice, we almost didn't leave!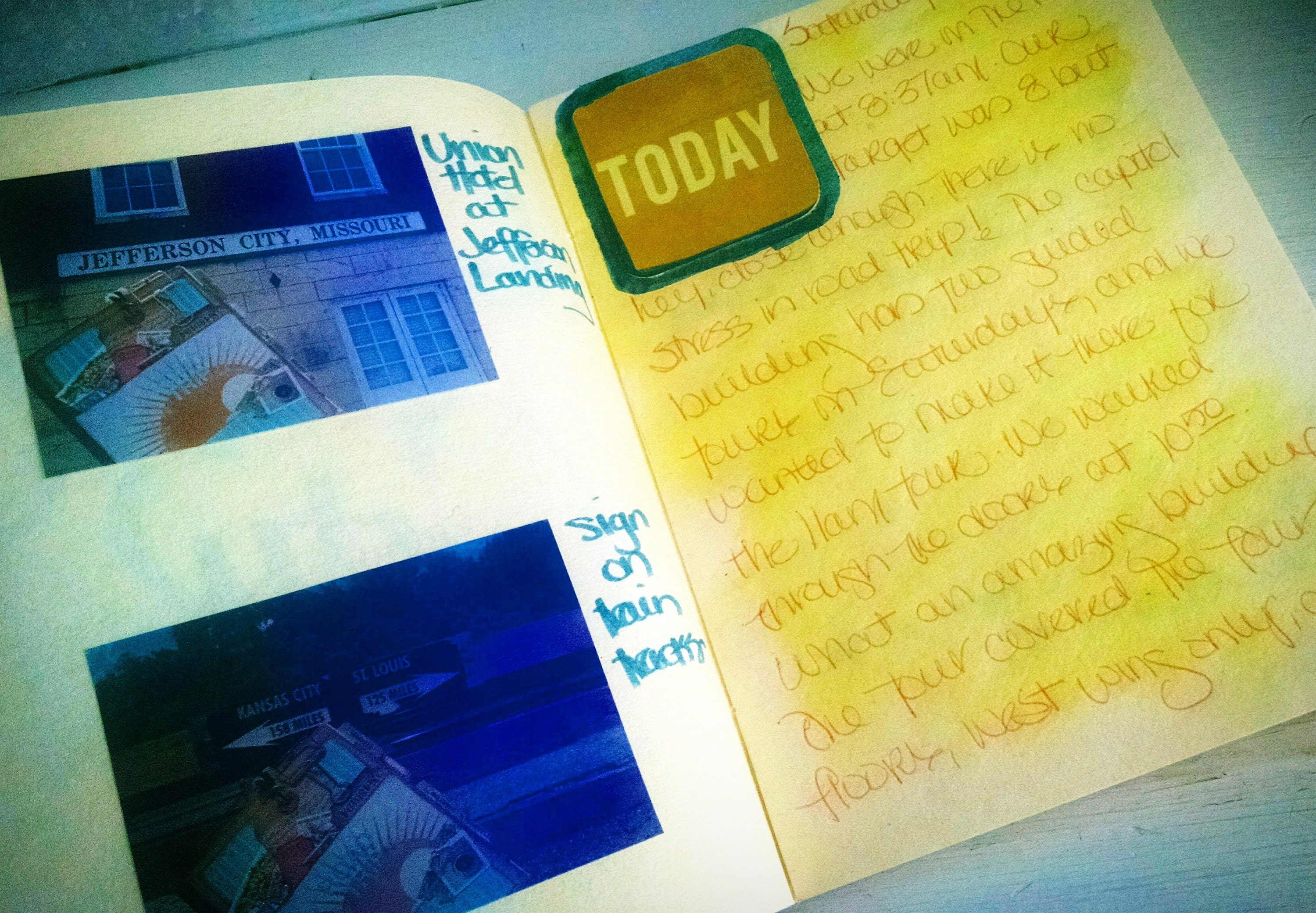 Had it been a bit cooler out, we may have stayed a while longer and done some more exploring, but it was getting pretty toasty. So we decided to make one last stop before we headed home.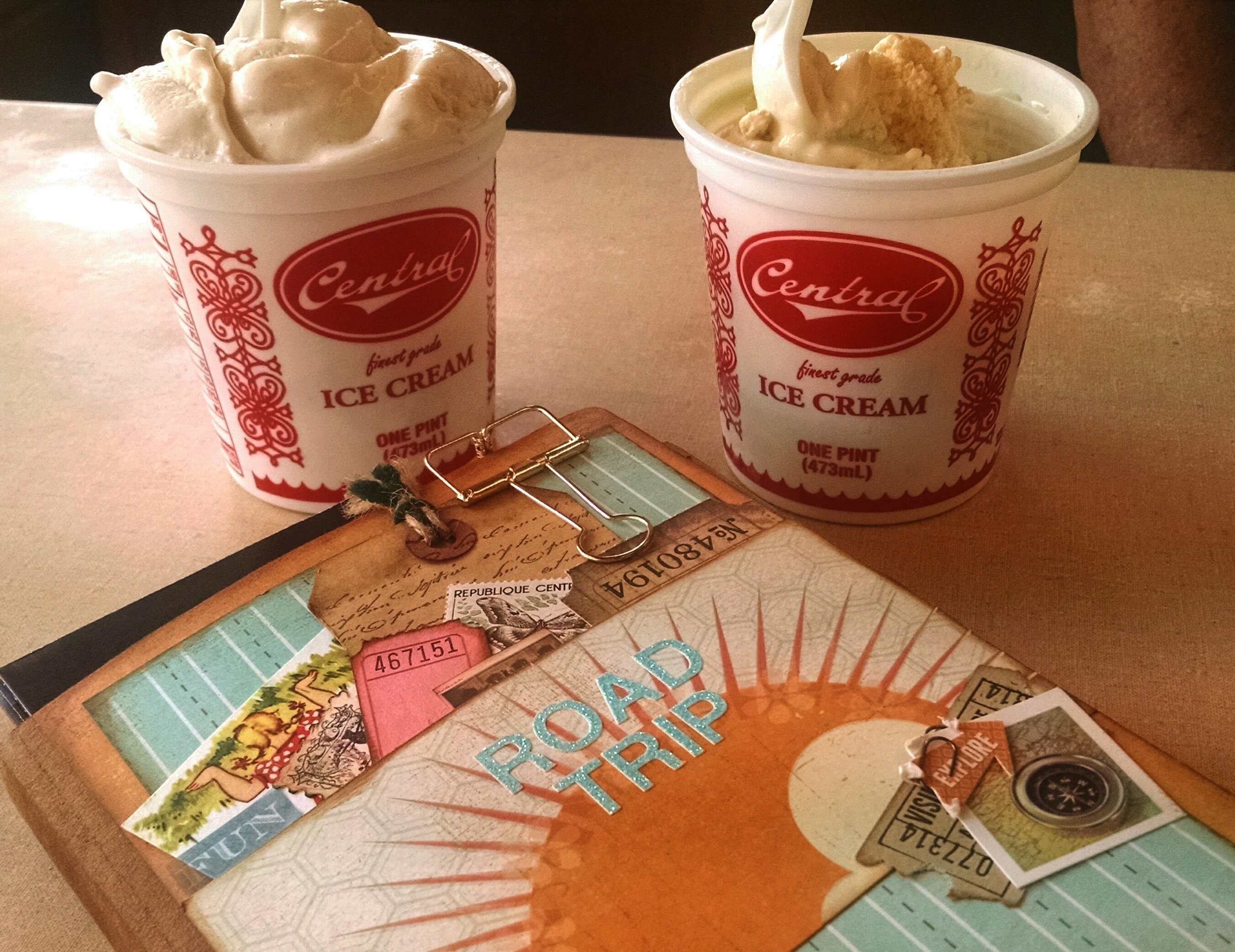 I mean, what's a road trip without a little treat?! Ice cream was the perfect way to cool off before our drive home.
Daytrippin' is such a great way to get away from it all, even if it's for just a few hours. 
Do you like to take day trips? Why or why not?
This is my story. Tell me yours.